Background Research:
Niall Carlin: Head of Double Jump Studios.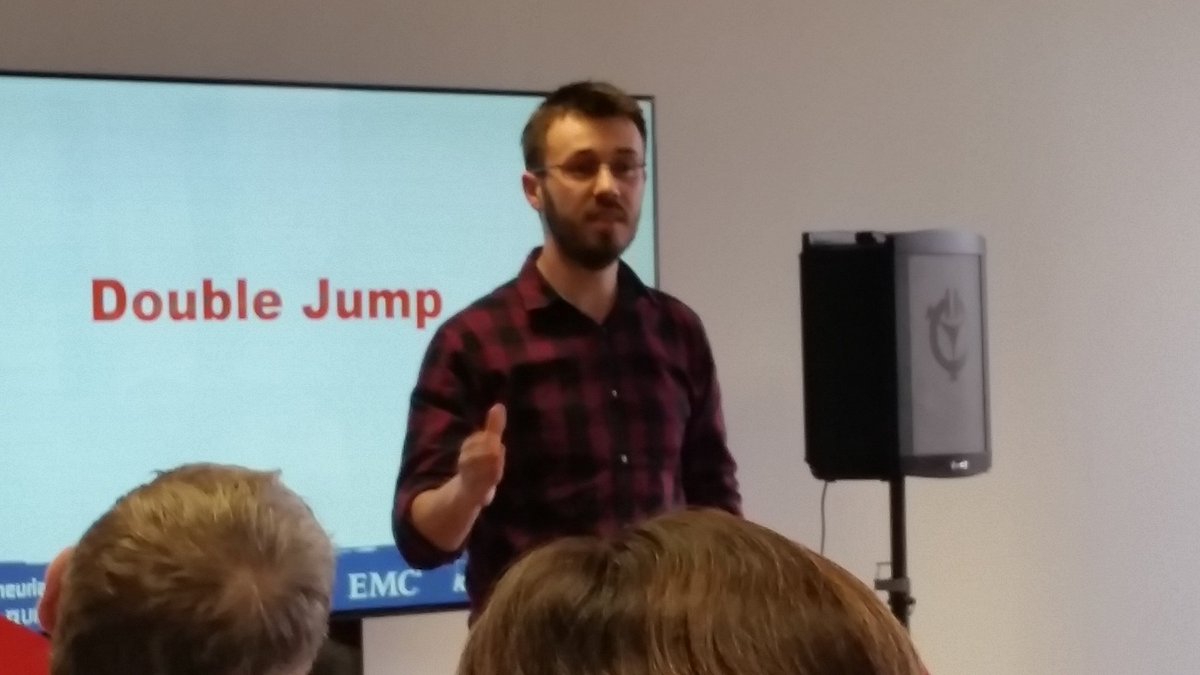 Photo Taken by Alec Parkin.
After graduating from Design for Communication, Magee Campus, Ulster University.He went on to become the creative head at White Noise Studios, working on projects for clients such as the BBC. Developing an interest and seeing the potential in the application of Virtual Reality, such as the Oculous Rift, as an interesting method through which to communicate ideas.
What does Double Jump Studios do?
Double Jump Works closely with organisation to help them unlock their creativity
Develops the best strategy to give the client what they want.
EVERYTHING IS AWESOME
Technology is readily available and easy to obtain
There's information everywhere for an individual to learn the software.
however as a result, the ability to use software isn't considered to be a key trait anymore, instead those with a firm grasp and understanding in areas such as design Theory, colour, Typography, composition and animation are valued above all else.
"SO LEARN THE HARD STUFF!"
You need a Hero
Look at the work of the individuals that inspire you and constantly assess your work against theirs, and keep developing, even when you surpass them.
Practices everyday, whether it's drawing, modelling, animation or even a bit of everything, practise everyday. The more you practise the better you get.
Be good at taking criticism.
Deadlines
Deadlines rules your creative life
Time is money
"

Always ask why and not how…

"
The tool is not the skill (i.e: Maya is a tool) but knowing 'why' to approach a problem or scenario in a certain way is more important.
Don't Be The Best
Always push your skill level and seek to learn more, and learn from those around you.
Additional bits of advice
Be great
Meet people and get to know them
Be cool
I really enjoyed Niall's lecture, I thought it was very inspiring to see an individual who pretty much started off in the same place as we did and work his way up the industry here in Northern Ireland. Also the advice he gave in general is fairly invaluable, it's a very competitive industry and if you're not prepared to sit down and learn the hard stuff someone else will gladly take your place and I couldn't agree more with the necessity of being able to take criticism. Having worked in a variety of teams over the past two years I learned that criticism is a great form of communication that gives you the opportunity to learn more about the person you're working with or for and it forces you to really think about how you work leading you towards good practices in creating your content.
I also had the chance to ask him a few questions after the presentation.
Knowing that he had previously  undertaken courses in games design and had experience in creating visual effects for television, I asked him if whether or not he found the skills developed from either of these areas were easily transferable from one to the other?
To which he replied,
"On a Tech side, programming skills are fairly transferable, games now a days have quite a cinematic standard, so it's not uncommon to for from games to film or vice versa also games Artist often transfer over to the world of VFX as Generalist technical directors covering modelling, lighting, texturing, layout and rigging and so on…"
In addition I asked him if whether or not he thought virtual reality has a lot of potential to develop in our industry.
"Yes, I think there's huge potential for virtual reality, it's a new and exciting medium through which to tell stories and communicate ideas with."
Awesome guy, looking forward to seeing what Double Jump Studios does in the future.
You can see some more of Double Jump's cool works here: